Culture
I said fuck tradition, went to a topless resort for Thanksgiving, and figured out what I'm truly grateful for
The question "breast or thigh" during Thanksgiving dinner took on a new meaning when the woman gyrating in a black bra and matching hot pants started climbing the pole in the middle of "She" restaurant at Temptation Cancun Resort in Mexico.
Two and a half years ago, in what feels like another life, my time on "the marriage track" came to an end. A few months after picking out my engagement ring with my monogamous (and abusive) partner, I was suddenly single, heartbroken, and had no place to live. My whole life had been mapped out: I was going to get hitched, move upstate, maybe pop out a couple kids, and live in New York—the place I was born and raised—forever. When that breakup happened, I thought my only chance at happiness was over. At the age of twenty-nine.
Four months after the rug was pulled out from underneath me, I decided to drive across the country and back by myself because the only thing I did know about my newly single life was that I did not want to stay in New York. I decided to allow myself to not have a budget for an entire year and for all of 2018, I "auditioned" 6 US cities for 1-2 months each, letting myself live in the best Airbnbs, eat at the best restaurants, and have enthusiastic consent-driven sex with whomever I connected. (To this day, I still haven't lived in any zip code for longer than eight weeks.) To say that my life has been chaos—a revolving door of people, cities, and Airbnbs to call "home"—is an understatement.
While roadtripping through Denver last year, I met a smooth-talking lawyer who ultimately became Denver Sex Friend (DSF). I went on to finish out the road trip and begin to put roots down in my new home, Los Angeles, but every four months or so, DSF and I made time to see each other and fell into a dynamic whereby whenever we're in the same zip code, we date. As a sex and travel writer, when the opportunity to check out a topless resort called Temptation resort in Cancun, Mexico, appeared in my work inbox, DSF and I were due for another hangout. The only "problem"? The only time our schedules coincided was over Thanksgiving.
I felt conflicted because despite my nomadic lifestyle, I've never missed a Thanksgiving with my family. Wasn't I supposed to be with them? Wasn't that something I should do? Fortunately, I'm not one for shoulds. The sex writer jumped out. My work involves advocating that the best form of self-care is not acting out of a sense of obligation, but honoring your actual wants and desires. I said yes to the trip.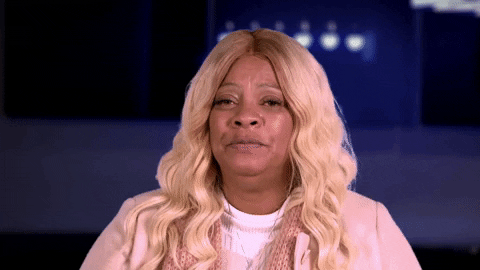 The moment I knew I had made the right decision was about a half hour into my time at Temptation, after a dip in the sparkling waters of the Caribbean—a vibrant turquoise I had never seen before—when DSF hugged me, grabbed the only clothed part of me (my ass) and leaned in to murmur, "I'm going to eat you up later." While the Macy's Thanksgiving Day parade Santa's belly was shaking like a bowl full of jelly, I, too, was shaking… when we headed back to the room and DSF made good on his promise.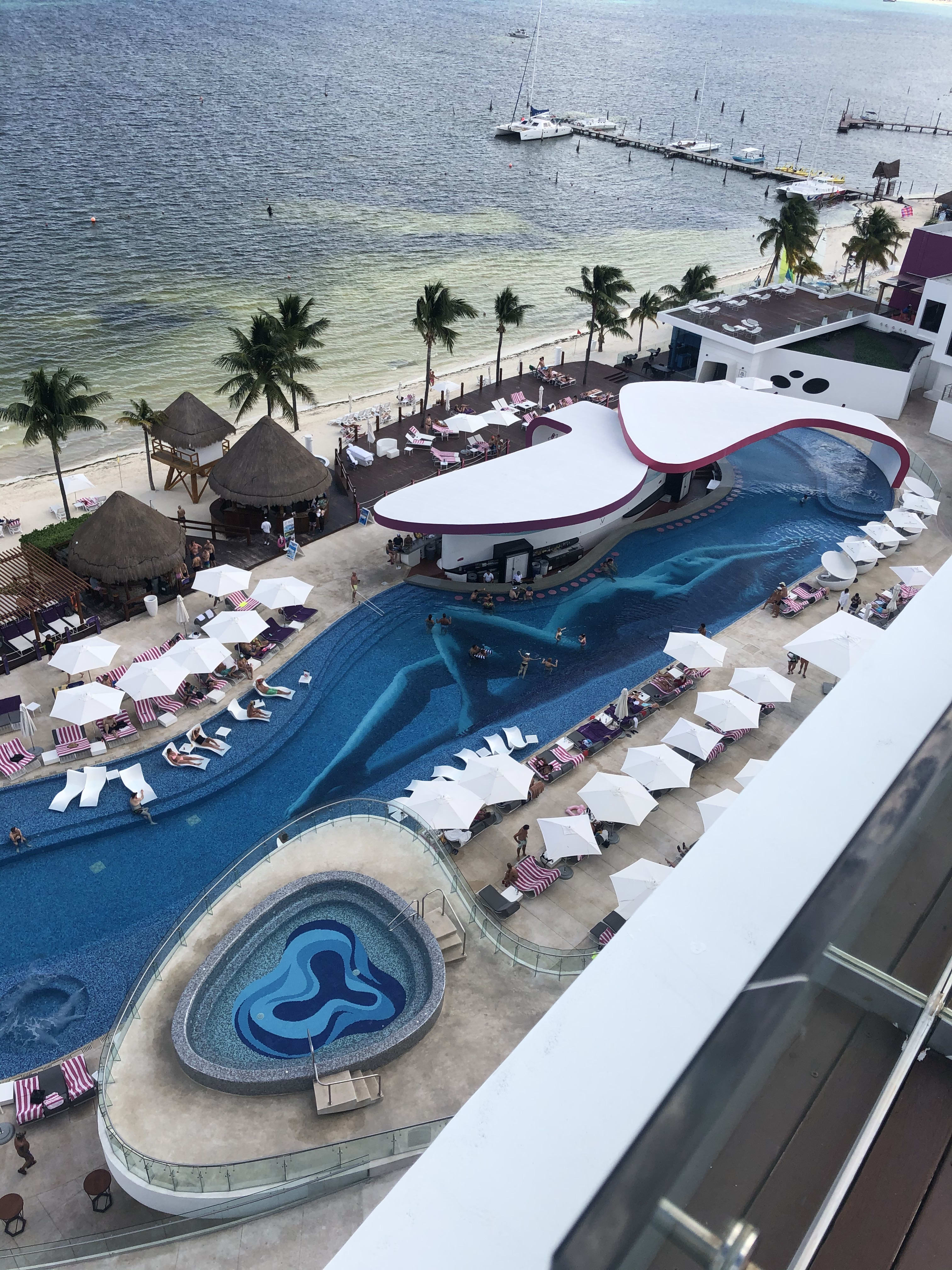 After that quickie on our first night, DSF and I headed to our reservation at "She," the restaurant at the resort with a 7-course aphrodisiac menu and two women spinning on stripper poles in the middle of the establishment. I chuckled to myself at the realization that, in that very moment, my relatives were probably in turkey comas as DSF and I enjoyed bites of cucumber-lime sorbet, chocolate, and, of course, oysters. Both DSF and I--a heteroflexible butthead--let out a hushed "oof" under our breath as those two very pretty ladies showed a room full of diners how flexible they are. It felt good to be open about my sexual attraction to women, something I was planning on honoring when I was on the "marriage track." The scene did something for both DSF and me because we immediately headed back to the room so DSF could turn me into the eighth course of dinner.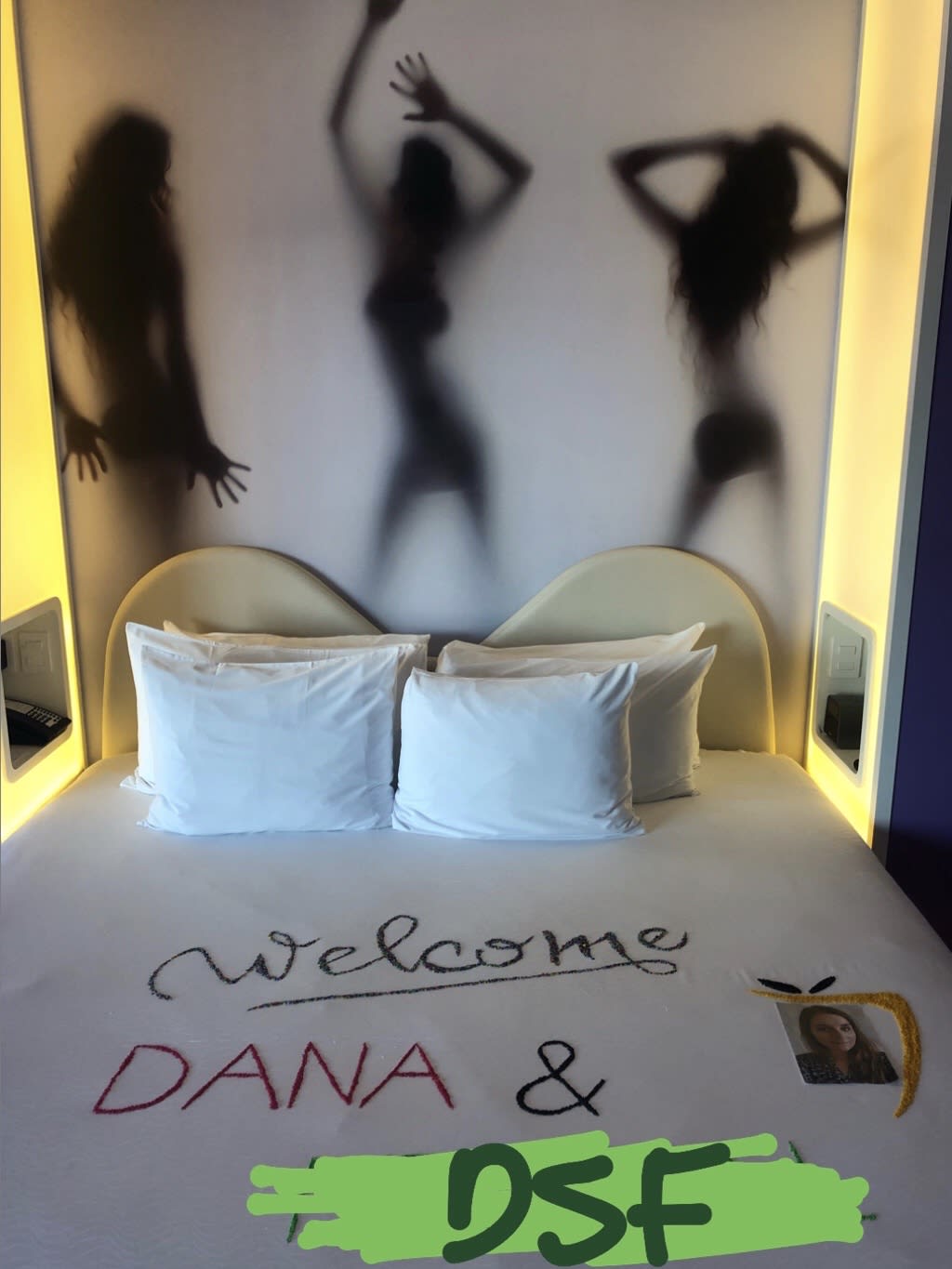 It's hard not to become enveloped by the purely good energy of the people at Temptation. Even though the alcohol is flowing freely and almost everyone is topless, I felt safe and comfortable at all times. Because the crowd doesn't skew too young (most vacationers are in their thirties), I didn't encounter anyone who couldn't handle their alcohol or who was being annoying. With plenty of shapes and sizes, showing your body isn't a competition. It's purely freedom. No one gave a shit about their body or anyone else's. Seeing everyone following their bliss spoke to my roadtripper soul.
The morning of our first full day, we headed to a private cabana on the beach and had so many tequila shots that when the national anthem played, I added about three extra syllables to each word and accidentally put my titties all over my Instagram stories. We heard a large crowd up on the pool deck, so we went up to discover a drinking game where the host was pitting hotel guests from different countries against each other. DSF and I, loyal to no country in particular, cheered along with the crowd for each victor and enjoyed some excellent people-watching. We spotted a few bachelor, bachelorette, and "end of an error" parties (aka divorce parties) going on, because, just like us, Temptation is not-so-traditional, too.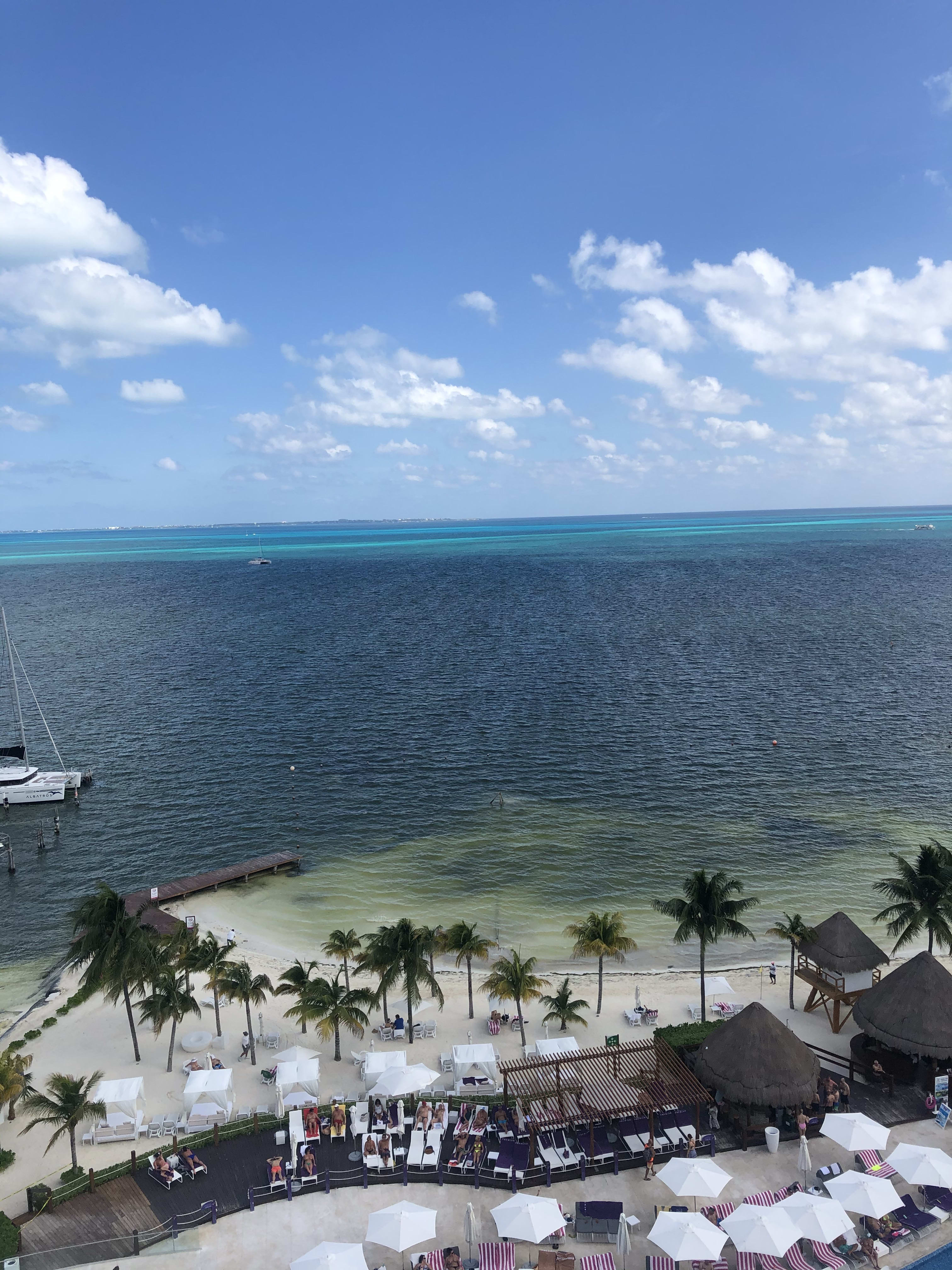 Five tequila shots deep, we went back to the room and put some porn on the large tv opposite our bed. I was impressed by the selection available (all for free) but by how many of the scenes featured clitoral stimulation (a rarity!). One squirting orgasm later (thanks, Womanizer and DSF's cock), we headed to the spa to enjoy time in the dry sauna with cucumber slices and a cold aromatherapy towel draped over my eyes, a cold plunge, and some time in a wet sauna. The potent combination of post-orgasm dopamine and spa time turned my body to jelly. I breathed in the eucalyptus-scented steam and chuckled at the thought that there was a time a few years ago where I thought sex with toys and a casual partner was inferior to toyless sex with a serious one.
After a "sensual" massage experience (yes, there were blindfolds involved), we went for a night swim at the "quiet pool" on the far side of the property and then back to the room for some fun sex where DSF pulled my legs apart like a string cheese and he was a kid who had just gotten home from school (yes, I wrote that joke while drunk). At hibachi that night, I ordered the fried ice cream and fried banana for dessert. After all, I was honoring what I wanted and what felt right. When I took off my dress later that night, DSF realized something.
"Did you not wear underwear to dinner?" he asked.
I shrugged. "Nah."
I clearly did not give a shit anymore. It felt good.
For our last full day, I laughed as I bought a lime green crocheted thong for the beach because I was tired of being the most covered up person at Temptation. I ended up matching with DSF whose New Year's resolution was to wear a Speedo every time he went swimming to challenge himself to be more comfortable in his body (one of the many reasons I like him). As you can see, I'm beaming.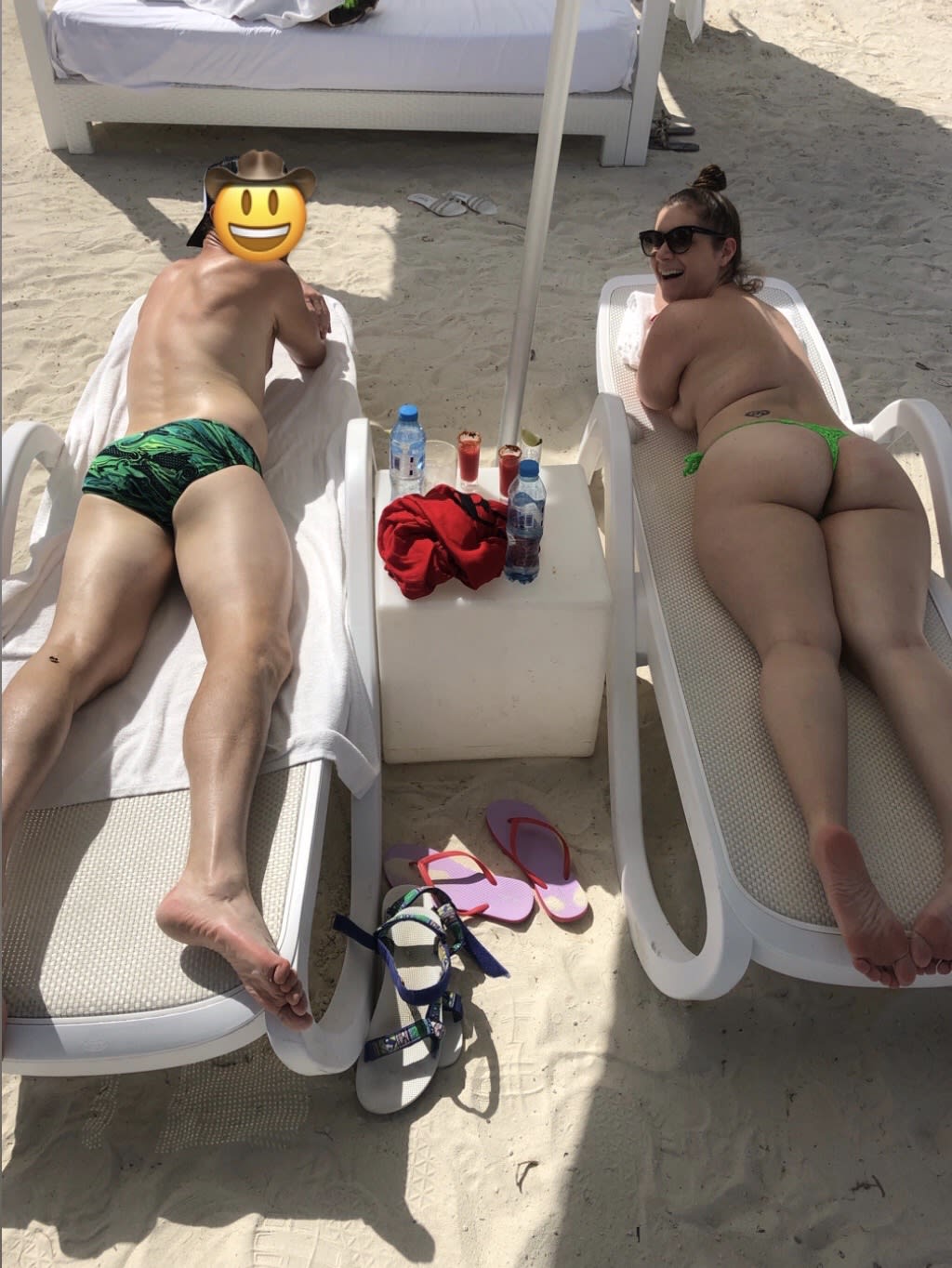 My life might not be understood by most people. But I realized I'm happier traveling the world, dating people under not-so-traditional circumstances than I ever would have been staying in one place and sticking to one person. When I tapped into what I want to do and not what everyone else is doing, I found my bliss. My life wasn't over after my breakup at twenty-nine. In fact, it was just beginning.
Stay in the loop, bb
Our top stories delivered to your inbox weekly